Exhibitions
Sala d'Exposicions
at street level under the gothic stairs to access the Library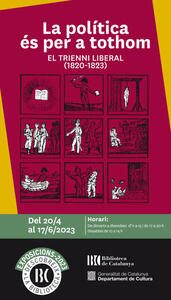 Place: Sala d'exposicions
Start date: 20/04/2023 End date: 17/06/2023
Timetable: De dimarts a divendres de 11 a 15 i de 17 a 20 h. Dissabtes: de 10 a 14h
Fa dos-cents anys Barcelona era la ciutat més revolucionària d'Europa. Feia any i mig, el 1821, havia patit l'epidèmia més devastadora en segles i les crisis s'apilaven. El nou...
Espai Zero
located at the lobby of the Library
Place: Espai Zero
Start date: 10/05/2023 End date: 19/06/2023
Timetable: Dilluns a divendres, de 9 a 20 h. Dissabtes de 9 a 14 h
Altres espais
Place: Museu d'Història de Catalunya
Start date: 30/03/2023 End date: 01/10/2023
Timetable: De dimarts a dissabte de 10 a 19 h. Dimecres, de 10 a 20 h. Diumenges i festius, de 10 a 14.30 h.
L'exposició vol reivindi­car la figura de les dones que van explicar de manera gràfica el darrer segle i van ser molt presents en tots els àmbits de la vida quotidiana, encara...